Say goodbye to winter and hello to spring during the Pritchard Broadcasting Home Show at the Pzazz Convention and Event Center Saturday Feb 24th & Sunday Feb 25th.
If you're thinking of doing anything to your home, inside or outside, this is the place to be and admission is FREE! We'll have more than 60 vendors! Discover what's new in flooring, landscaping, decorating and more! It's the area's most popular home show, Saturday 10am-4pm and Sunday 11am-3pm.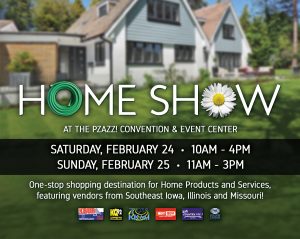 Reid's Landscaping
Remax Real Estate
Beer vendor
Matt Rinker-Shelter Insurance
Maid to Serve
The Acri Company
Sherwin Williams
Nu Bath 1 Day
Crear Contracting
Morning Star Metals
Barngrover Glass
Your Heat and Air Guy, LLC
Myers Construction
Myers Design
Ritter's Garden Center
Casebine Credit Union
L.J. Roth Restoration Service
Jern's Heating and Air Conditioning
Galaxy 1
Courtesy Door Sales and Service
Reliable Pest Solutions
Service Master
Bix Basement
Bickels
Sinclair Tractor
Ruhl & Ruhl Realty, Inc.
Renewal by Andersen
Leaf Filter of North Iowa
Bath Fitter
Beer vendor
Rheinschmidt's Flooring America
Sovern Construction and Home Center
US Cellular
BANK
Pro Motor Sports
Window World
C-Cat Termite and Pest Management
Solar Imput
Culligan
SE Iowa Garage Door
Midwest Wood Goods
Precision Roofing
Tri State Vents
Pet Safe of the Tri State
Basement Solutions
LOBBY
Nick's Cycling & Fitness
Eco Easy Products
Newberry Landscape Design & Construction
Serv-Pro
Kruse Quality Construction
Midwest Realty Group
Morning Sun Farm Implement
Blue Jay Barns
Zaiser's Landscaping
CSI Homes