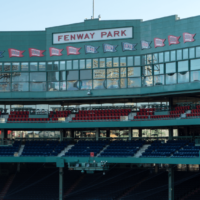 The Boston Red Sox will host the New York Yankees in the American League Wild Card Game on Tuesday night.
In Sunday's game vs. the Tampa Bay Rays, NY's Aaron Judge drove home the winning run with a one-out single in the ninth inning of the Yankees' 1-0 win; and the Red Sox's Rafael Devers' two-run homer in the ninth inning broke a 5-5 tie vs. the Washington Nationals, helping Boston to win 7-5.
The victories by New York and Boston officially eliminated the Seattle Mariners and Toronto Blue Jays from the playoffs. The Mariners lost their regular-season finale to the Los Angeles Angels 7-3, and while the Blue Jays defeated the Baltimore Orioles 12-2, they also needed a loss by the Yankees or Red Sox to set up a tiebreaker to decide the final wild-card berth.
Editorial credit: Victor Maschek / Shutterstock.com