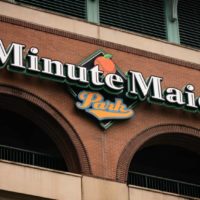 Game 1 of the 2021 World Series kicked off at Minute Maid Park in Houston on Tuesday, with the Atlanta Braves defeating the Houston Astros 6-2 to take a 1-0 series lead.
The Braves took an early lead over the Astros scoring five runs off Houston starter Framber Valdez. The Astros' left-hander was knocked out of the game in just the third inning after a disappointing outing. Atlanta starter Charlie Morton took a ball off the bat of Yuli Gurriel to the shin the second inning, breaking his fibula. Morton actually stayed in the game until the next inning and left after striking out Jose Altuve. The Braves announced that he will miss the rest of the series. After Morton's exit, the Braves bullpen kept the Astros lineup mostly at bay for the rest of the game.
Game 2 is set for Wednesday night at Minute Maid Park in Houston. The first pitch is scheduled for 8:09 p.m. ET.
Editorial credit: Forge Productions / Shutterstock.com