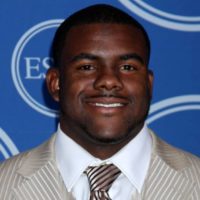 The Houston Texans are trading veteran running back Mark Ingram to the New Orleans Saints, per NFL Network's Tom Pelissero and Ian Rapoport, a move that sends Ingram back to his original team. The Texans' compensation is expected to involve late-round draft selections.
Ingram was drafted in the first round of the 2011 NFL Draft by the Saints, 28th overall, and now returns after playing for the Ravens and Texans. Ingram has averaged a career-low 3.2 yards per carry with the Texans this season (92 carries, 294 yards).
Ingram played eight years with the Saints, where he earned two of his three Pro Bowl nods, before signing a three-year, $15 million free-agent contract with the Baltimore Ravens in 2019. He was waived by the Ravens after two years and signed with the Texans in March. Ingram needs just 90 rushing yards to become the Saints' all-time leading rusher, trailing only Deuce McAllister, 6,096 to 6,007.
Editorial credit: Joe Seer / Shutterstock.com