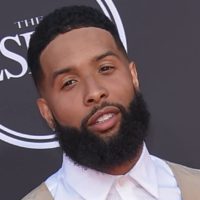 Less than 24 hours after the league trade deadline passed, Yahoo Sports reports that Browns receiver Odell Beckham Jr. did not practice on Wednesday, and that the decision is "team-related." Beckham was ready to practice on Wednesday, but that the team told him he is "excused." What this means for Beckham remains to be seen, but continues speculation that has been going on since Tuesday when Beckham's father posted a video on Instagram showing how poorly utilized his son was — as well as LeBron James later coming out with a tweet proclaiming he would be a true #1 receiver again.
There was speculation that the Browns may have tried to trade Beckham Jr. before the deadline, but no transactions were made on Tuesday. The Browns did not move Beckham at the trade deadline either via trade or releasing him and reports suggest they do intend to keep him and figure out a way to make this work.
Beckham Jr. joined the Cleveland Browns via trade in 2019, but the receiver has not been able to put up the types of stats he tallied while he was with the New York Giants; whether due to injury or other reasons. In Sunday's 15-10 loss to the Pittsburgh Steelers, Beckham Jr. caught one pass for six yards.
The 4-4 Cleveland Browns travel to Cincinnati next for a road game against the AFC North rival Bengals on Nov. 7 at 1 p.m.
Editorial credit: DFree / Shutterstock.com