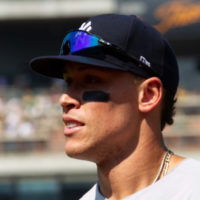 Aaron Judge will remain with the New York Yankees after agreeing to a nine-year, $360 million contract with the franchise .  The deal gives the slugger nearly $150 million more than what the team had offered him in the spring; Judge rejected a seven-year, $213.5M deal from the Yankees last off-season. Judge now is under contract with the Yankees through the 2031 season.
The 30-year-old Judge joined the Yankees as the No. 32 overall pick in the 2013 MLB Draft. He earned Rookie of the Year honors in 2017, when he hit an American League-high 52 home runs. The four-time All-Star owns a career .284 average with 220 home runs and 497 RBIs in 729 games over seven seasons with the Yankees.
The right fielder hit .311 with a league-leading 62 home runs and 131 RBIs   Judge hit his 60th homer of the season on Sept. 20, tying Babe Ruth's 1927 mark, then matched Roger Maris' AL record with his 61st on Sept. 28 in Toronto. On Oct. 4, Judge passed Maris with a first-inning homer off the Texas Rangers' Jesus Tinoco. Last month, Judge was named AL MVP for a season in which he hit .311 with 133 runs and 131 RBIs.
Editorial credit: Conor P. Fitzgerald / Shutterstock.com