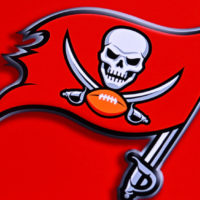 Tampa Bay Buccaneers announced on Tuesday that wide receiver Russell Gage, who was hospitalized with a concussion and neck injury, has movement in his exterminates but will undergo additional testing. Gage, a five-year veteran, sustained the injuries in the fourth quarter of the Buccaneers' 31-14 wild-card round loss to the Dallas Cowboys on Monday in Tampa, Fla.
Gage was running a route before he was hit from behind by Cowboys safety Donovan Wilson; he stayed on the ground until the Buccaneers medical staff ran onto the field. Players from both teams then surrounded Gage before he was placed on a stretcher and taken to the Tampa-area hospital. Gage totaled two catches for 10 yards in the loss.
The Buccaneers said in a release: "After suffering a neck injury and concussion during the fourth quarter of last night's game, Russell was taken to a local hospital where he remained overnight for additional testing and observation. Russell has had movement in all extremities and will continue to undergo additional testing today. We will provide additional information as it becomes available."
Gage has logged 51 catches for 426 yards and a career-high five touchdowns in 13 regular-season games. The Cowboys will face the San Francisco 49ers in the NFC divisional round at 6:30 p.m. EST Sunday in Santa Clara, Calif.
Editorial credit: kovop / Shutterstock.com