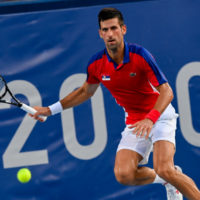 21-time major champion and former world No. 1 Novak Djokovic has withdrawn from the US Open due to travel restrictions into the United States, as a result of being unvaccinated against COVID-19. Play is scheduled to begin at Flushing Meadows, New York, on Monday.
Djokovic made the announcement Thursday morning on Twitter, saying, "Sadly, I will not be able to travel to NY this time for US Open."  He wished good luck to his fellow players, adding that he would "keep in good shape and positive spirit and wait for an opportunity to compete again."
Djokovic had previously said he hoped the United States would change its policies after winning Wimbledon in July, in order to allow him to play at the year's final major. But Djokovic was forced to withdraw from last week's Western & Southern Open, as well as the National Bank Open earlier this month due to Canada's similar restrictions.
Stacey Allaster, the US Open tournament director, said in a statement: "Novak is a great champion and it is very unfortunate that he will be unable to compete at the 2022 US Open, as he is unable to enter the country due to the federal government's vaccination policy for non-U.S. citizens. We look forward to welcoming Novak back at the 2023 US Open."  The Centers for Disease Control and Prevention's guidance on international travel was updated on Wednesday to say: "Non-U.S. citizen, non-U.S. immigrants: You must show proof of being fully vaccinated with the primary series of an accepted COVID-19 vaccine before you board your flight to the United States. Only limited exceptions apply."
Editorial credit: Asatur Yesayants / Shutterstock.com