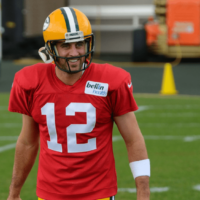 Green Bay Packers QB Aaron Rodgers is in discussions with the New York Jets regarding a potential off-season trade.  According to the NFL Network, the Packers gave permission to Rodgers to speak with the Jets, with a report stating: "If he still wants to play and he and the Packers agree it's time for him to play somewhere else, the Jets appear to be a realistic option."  Rodgers is also contemplating a return to the Packers, a trade elsewhere, or retirement; he said last week on the Aubrey Marcus Podcast that he will "make a decision soon enough." Packers general manager Brian Gutekunst told reporters last week that the team would like to have "some answers" from the quarterback by the start of free agency — March 15.
The 39-year-old Rodgers is set to make a $59.5 million guaranteed this upcoming season and is under contract until 2024.   He signed a three-year, $150.8 million contract extension last March, and is set to receive a guaranteed $59.5 million this season.
Rodgers completed 64.8% of his throws for 3,695 yards, 26 scores and 12 interceptions in 17 starts this past season.
Editorial credit: Allison Herreid / Shutterstock.com