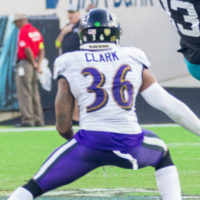 The New York Jets to a trade with the Baltimore Ravens, with NY acquiring safety Chuck Clark from Baltimore in exchange for a seventh-round pick in the 2024 NFL Draft. ESPN and the NFL Network reported the trade news on Thursday afternoon.
The 27-year-old Clark joined the Ravens as a sixth-round pick in the 2017 NFL Draft, spending the last six seasons in Baltimore. Clark, a former Virginia Tech star, only missed one game with the Ravens and started every game for the team over the last three seasons. He logged a career-high 101 combined tackles, four passes defensed, a forced fumble and a fumble recovery in 17 starts in 2022-23.
Clark signed a three-year, $15.3 million contract extension in 2020. and is set to become an unrestricted free agent next off-season.
Editorial credit: April Visuals / Shutterstock.com