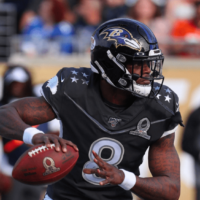 The Baltimore Ravens announced on Thursday that QB Lamar Jackson has agreed on a five-year extension worth $260 million, with $185 million guaranteed. This makes Jackson the league's highest-paid player with an average annual salary of $52 million, putting him just ahead of Eagles quarterback Jalen Hurts, who recently became the league's highest-paid player after signing a five-year, $255 million extension. The guaranteed portion is second-best to Deshaun Watson's $230 million in his deal with the Browns. The announcement comes a month after Jackson had requested a trade after the two sides could not come to terms on a new contract. The Ravens had previously placed the non-exclusive rights tag on Jackson.
Jackson– a former league MVP and two-time Pro Bowl quarterback — said in a video celebrating the news. "But for the next five years, it's a lot of Flock going on. Let's go, baby. Let's go. Let's go, man. Can't wait to get there, can't wait to be there. Can't wait to light up M&T for the next five years, man. Let's get it."
Jackson has become one of the best quarterbacks in the NFL, leading in touchdown passes in 2019. That was the same year that Jackson broke Mike Vick's 13-year-old record for single-season rushing yards for a quarterback. As the Ravens' starting quarterback, Jackson has a 45-16 regular season record.
Editorial credit: Steve Jacobson / Shutterstock.com